Agoria
Contact
Agoria is not like any other rave child. At the beginning of the 90s, he experienced a golden age where history was written with each new evening. Electronic music had no code or face yet, only a few values that it was quick to forget. Since then, as one of the pioneers who invented techno in France, he has proven himself by escaping from the framework that he himself has contributed to creating and ventured successfully into the universe of cinema, fashion and contemporary art.
It all starts in Lyon, at a time when incomprehension and repression against techno are such that any night that does not end in police custody for rave organizers is a victory. No evening is the same. It is in this context, in December 1993, at only 17 years old, that Sébastien Devaud - who is not yet called Agoria - takes the decks for the first time in public, at Space, a club in Lyon with multiple corridors. He plays before Richie Hawtin and Carl Cox and ... "nobody dances". A film student, he just refused to work on a filming of James Ivory in order to mix for this evening: "I wondered for a moment if I had made the right choice".
It is at the microphone of a local radio station in Lyon, for four hours every Saturday, then on Tuesdays, when his passion for music grew and his horizons broadened. "These years of radio trained and nourished me, that's how I understood that there were good songs in all styles and that I had to take an open approach." The richness and diversity of the music he composes and plays today was born in those moments.
Agoria first produced records in 1999, "La Onzieme Marche", first released in 2001 on Tekmics, marked his first big step. Today it's a classic, mixed and remixed by a lot of DJs and the starting point for his meeting with the label Pias which released his first two albums - "Blossom" in 2003 featuring Tricky, then "The Green Armchair "in 2006 with the participation of Neneh Cherry and Peter Murphy, leader of the legendary Bauhaus. With these albums, Agoria began to impose his oblique universe, inspired by that of the pioneers of Detroit, but "twisted" by a funny contemporary pulsation, tinged with pop, soul and hip-hop.
This desire to compose real music for today, while avoiding the codes that often stifle it, found its peak with the album "Impermanence" in 2011 and even more with "Drift", released in collaboration with Mercury / Universal in 2019. More than any other of his albums, "Drift" confirmed Agoria's talent for the sensuality of acoustic melodies and the refinement of modernist productions, without ever completely denying his electronic roots.
Agoria's desire "to constantly try new adventures", lead him to create two of the most avant-garde labels of the French electronic scene. Infiné in 2006 with Alexandre Cazac and Yannick Matray, which discovered artists as adventurous as Rone and Aufgang, then the label Sapiens, which he has directed alone since 2016 and published as much original music as spoken words written by researchers and artists.
In 2006, a decisive new encounter with cinema arrives. Stunned by the power of "Code 1026", the Belgian director Olivier Van Hoofstadt and his producer Luc Besson ordered an original soundtrack from Agoria. From this adventure was born one of Agoria's most abrasive discs, but above all a friendship with Olivier Van Hoofstadt who in 2020 asked him to compose the soundtrack for "Lucky", the new crazy comedy from the director of "Dikkenek". Meanwhile, Agoria also wrote music for two documentaries by Jan Kounen, "Mère Océan" and "Vape Wave" in 2016, then in 2018 on the series "The Show".
The wealth of experiences that characterise Agoria lead him to collaborate with the fashion world, playing his music for the Italian brand Fendi in Milan, the city where he himself resided for several years. He has also collaborated with the visual artist Philippe Parreno with whom he participated in the writing of the soundtrack for the immersive installation he cerated in 2016 for the Turbine Hall of the Tate Modern in London.
But it was during the last edition of Art Basel Miami Beach, one of the most important contemporary art fairs in the world, where Agoria, under his real name, was invited to present his work for the first time. His pieces, taking a new look at the principle of the lacerated posters dear to Jacques Villeglé, an essential figure in "New Realism" of the 60s, were hailed by the famous American magazine "Interior Design" as one of the strong points of the '2019 edition. The Agoria story goes on, and he will soon return with another new album.
Translated from French, written by the journalist Alexis Bernier, 2020.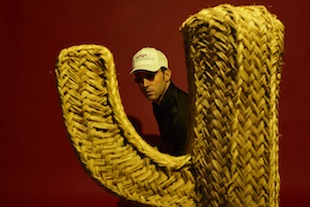 | | | | |
| --- | --- | --- | --- |
| Jan | Feb | Mar | Apr |
| May | Jun | Jul | Aug |
| Sep | Oct | Nov | Dec |