Absolute.
Contact
With hardcore support from Pete Tong, Annie Mac, Tiga, and The Blessed Madonna, who correctly noted that he has "the hardest working hair in show business," ABSOLUTE. has raised himself above the rabble of contemporary dance music with massive crossover house hits ("String Theory, "Stuck in Love" & "Voices") that will ensure free FIJI water in his green room for the rest of his life. As the London-based DJ/producer is a virtual lock to earn the kind of clout that will allow him to scrub the internet of all biographical detail, it seems wise to revisit his early days and career-to-date while we still can.
As a child, ABSOLUTE. was enthralled by dance music, to the extent that he took the money his father had given him to buy clothes and spent it on a single turntable. While initially furious, once his dad heard the music, he calmed down and said, "Son, that is a low-slung floor-filler, and I have no choice but to respect it." Later, ABSOLUTE. honed his DJing skills by using the lone deck to beat-match to Pete Tong's BBC Radio show, a fact that will take on eerie significance if you read this bio backwards.
A teenage ABSOLUTE. found his chosen family among club kids and drag queens in East London queer spaces, eventually going on to promote and curate spaces like these himself. "For whatever reason, the people in the queer scene hadn't found liberation in pub trivia nights held at Wetherspoons breeding pits," he says. "So, they had to create their own world instead. At this point, my politics are actually less progressive than the British Airways twitter account, so things seem to be moving in the right direction."
These experiences led to ABSOLUTE. to notice that queer spaces are largely dependent on the viability of human existence. As such, his nascent activist streak led him to sample climate icon Greta Thunberg on the track "Rave Against the Machine", despite the fact that the 40-and-over conservatives who regularly challenge Thunberg to debate and/or wrestle on social media make up a huge part of the acid house market. The track led to a collaboration with the Extinction Rebellion collective, for whom ABSOLUTE. curated the "Rave Against the Machine" queer stage at the activists' event in London. Unfortunately, the stage was promptly shut down by police. While many of the cops had no opinion on the political message, they were reportedly pissed that the event was overshadowing an after-hours the local station had been promoting featuring a DJ set by Gavin Rossdale and mind-bending visuals by Kyle Rittenhouse.
To the extent that there is a habitable future for anyone at all, ABSOLUTE.'s is looking bright. Hot off a BBC6 Essential Mix from Glastonbury (named Mix of the Year by The Blessed Madonna), he recently completed his first U.S. tour. "Whether my music helps inspire the advance of cold fusion technology or I end up DJing the Emerging Artists Stage of the Great Pacific Garbage Patch, I'm going to keep bringing the same BIG NEON ENERGY intensity to everything I do. So, the next time someone tells you there's no absolutes, give them a knowing grin and say, 'There's just one, honey. Just one.'"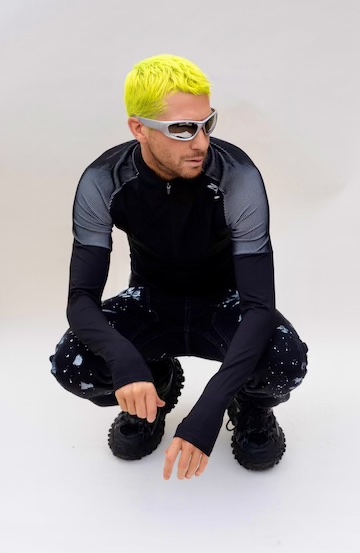 | | | | |
| --- | --- | --- | --- |
| Jan | Feb | Mar | Apr |
| May | Jun | Jul | Aug |
| Sep | Oct | Nov | Dec |