Erol Alkan
Contact
Erol Alkan is not susceptible to cliches, but amid a life devoted to alternative and electronic music culture, one just might be true; he is an artist who needs no introduction. Alkan's creative life as a DJ, producer, label owner, radio host and collaborator has spanned decades. His exhaustive history reads almost like mythology; the shy boy who snuck out of his bedroom window to play indie records to ruthlessly unforgiving crowds, and ended up transforming the London club scene, bridging disparate scenes with experimentation and abandon.
Decades later, everything and nothing has changed. Whether in the DJ booth, in the studio or on the radio, Alkan continues to rely on a unique alchemy driven by instinct and the pure, infectious love and knowledge of music he has carried since his childhood. Phantasy, the label he founded in 2007, stands as a forward-thinking beacon, representing the values of his legendary club Trash, which ran every Monday in London for a decade, which Alkan shuttered at the peak of its popularity and cultural cache.
Phantasy is an esoteric home for artists including Daniel Avery, Red Axes, Terr, Josh Caffe, Gabe Gurnsey and Ruby Goon. It's also the natural outlet for Alkan's own productions, as well as his own collaborative side project alongside Richard Norris, Beyond The Wizard's Sleeve. Following an already storied legacy reshaping and reworking obscure psych nuggets, the duo released their critically acclaimed debut LP 'The Soft Bounce' in 2016.
Despite ubiquity as a remixer and collaborator, solo Alkan singles have appeared infrequently but to great acclaim. 2018's 'Spectrum' was a hugely well-received single that went on to be remixed by Special Request, Matrixxman, Machine Woman, Mano Le Tough and Baris K, speaking for Alkan's desire and ability to connect with as varied of an audience of electronic music fans as possible, while always foregoing compromise.
'Automatic' followed in 2021 as the landmark hundredth single on Phantasy, a deceptively simple but celebratory filter-house workout, itself reworked by Palms Trax and LA Priest, calling back to the first ever single release on the label.
Three decades into his life as a DJ, and connection is more important to Alkan than ever before. The past few years have seen Alkan focus on 'To The Rhythm', a series of dates across Europe and North America, each of which create the ideal environment to explore the far-reaches of his record collection as well as controlling the lighting from the Dj booth as he soundtracks the room. Each facet of Alkan's taste and history is accounted for, spanning acid-drenched rave, frenetic house and the spirit of alternative pop and guitar music, as imaginatively curated on his much-loved 'Bugged In' mixes.
Elsewhere, alongside his focus on all-night sets, Alkan continues to take a similarly wide-ranging musical approach on a number of festival lineups. Recent appearances have included Field Day, Lost Village, Glastonbury, Homobloc and Boomtown, headline sets at Sonar in both Barcelona and Istanbul, and appearances at clubs such as fabric, Sub Club, Nitsa, The White Hotel and Le Sucre, and played back-to-back with DJs including Solomon, at his Ibiza '+1' residency and fellow champion of the underground, Ivan Smagghe. Under the guise of his 'Disco 3000' alias, he has also performed a series of special disco and Italo sets at parties including Lyon's notorious Garcon Sauvage and Homoelectric in Manchester.
Alkan's interest in studio productions and collaboration has always sat comfortably alongside his reputation as one of the most diverse Djs in club music. Phantasy has reissued two of Alkan's early album productions, Late Of The Pier's 'Fantasy Black Channel' and Mystery Jets' 'Twenty One', while recent years have seen Alkan affirm his production nous, working alongside shoegaze legends Ride and international pop icons Duran Duran. Released in 2021, 'Future Past' was the band's landmark fifteenth album and was largely produced by Alkan alongside Mark Ronson and Giorgio Moroder, featuring Blur guitarist Graham Coxon, Tove Lo, Chai and more.
Alkan's work as a remixer has allowed his music to echo around clubs even when he himself is away from the road. His hugely imaginative 'reworks' of artists such as Hot Chip, Connan Mockasin, Metronomy, Tame Impala and Justice have become classics of their genre, and were extensively collected on a 2018 compilation, 'Reworks Volume 1'. Reviewing the collection, Resident Advisor concluded that Alkan "belongs in the class of other fêted studio scientists like François K and William Orbit, whose best remixes exist out of time." Recent mixes of Confidence Man, Working Men's Club and David Holmes' 'Unloved' project have kept Alkan at the vanguard of remix culture.
Given his lifelong endeavour to channel music and creativity from past and present eras, it's little surprise that Alkan has also enjoyed a fruitful and ongoing spell as a radio DJ. Having broadcast on BBC 6Music for over a decade, including the longest-standing stint hosting their '6Mix' residency, he is now one of the residents at London's boundary-pushing NTS Radio, programming shows that connect the vitality of his current club sets with a vast record collection spanning decades.
As the sands of alternative and electronic music culture shift faster than ever, Alkan remains one of the most influential and enduring artists in whatever world he chooses to occupy. Never mind cliches, Erol Alkan is an even rarer sort; an artist who needs no introduction, yet with so much more to share.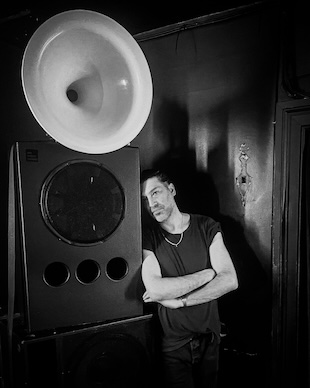 | | | | |
| --- | --- | --- | --- |
| Jan | Feb | Mar | Apr |
| May | Jun | Jul | Aug |
| Sep | Oct | Nov | Dec |