Yousef
Contact
Regarded as one of the world's foremost electronic music artists, Yousef is known and loved for his effervescent personality, supreme skills and confidence as a selector. His ability to rock any club or festival with high energy and vibrant, authentic house and techno is undoubted.
Yousef's story is one of resilience, determination and positivity. He has blazed a trail ever since he first stepped up on the decks over 20 years ago, becoming an iconic figure, leader and visionary whose unwavering commitment to house and techno has seen him criss-cross the globe, playing standout sets at an exhaustive list of the world's most influential club spaces. Yousef masterminded the globally-recognised Circus party brand and record label, both of which have set the benchmark for electronic music from Liverpool to the rest of the world. He is also an accomplished and prolific producer whose discography is comprised over a hundred solo cuts and remixes and a plethora of collaborations on many of the scene's best-known labels - Desolat, Cocoon, BPitch Control and Crosstown Rebels among them. With his fourth and most recent, full-length album '9 Moor Drive' he has ascended to a new level of artistry, employing his studio know-how to present an extremely personal insight into his difficult childhood.
It all began on the dance floor. A devoted raver first and foremost, Yousef began to spin records in the late nineties. In the years since, he has traveled far and wide delivering unforgettable sets everywhere he goes. A consummate professional, Yousef has universal appeal thanks to his innate ability to read the room and take the energy level up a few notches. As confident and exciting on four decks as he is on two, Yousef has been booked to play a dizzying array of clubs and festivals all over the world from North and South America, across Europe and Asia to Australia, side by side with the scene's top tier: Carl Cox, Steve Lawler, Sasha, John Digweed, Seth Troxler, Jamie Jones, The Martinez Brothers... the list goes on. Playing at highly-respected party brands such as Circo Loco, ANTS, Elrow, Warehouse Project and countless more, he has appeared at many of the world's most iconic clubs including fabric (London), Space, DC-10 and Amnesia in Ibiza, Watergate (Berlin), Shine (Belfast) and festivals like EDC, Exit, Ultra, Parklife, Creamfields and many more.
Yousef is the brains behind Liverpool's best-known party, Circus.
Conceived in 2002, it has grown into a hugely influential brand that regularly brings in the world's biggest DJs. From Carl Cox to Adam Beyer to Marco Carola to Loco Dice, Circus has hosted them all, nurturing young talent, too, as Yousef continues on his mission to inspire and encourage positivity. Likewise, the label has become a home for top tier artists and up-and-coming producers. Yousef's staunch ethos is to sign music made with affection, music that really moves you. As someone who sees music as colour (synesthesia) his ambition is for Circus to encompass a rainbow; with the brightest, boldest colours appearing across its releases.
In 2017 Circus Events celebrated its 15th anniversary with a huge compilation on Circus Recordings featuring original material from an array of top-flight artists and friends of the label like Jamie Jones, Alan Fitzpatrick, Sasha, Patrick Topping, Hot Since 82, Paco Osuna and Kerri Chandler. Parallel to the label's growth, the Circus parties are an institution in Liverpool, attracting partygoers from across the UK and further afield thanks to the high caliber of their bookings, which Yousef handles himself. In fact, he maintains a hands-on approach with the entire Circus operation, A&Ring music for the label and nurturing new talent while booking artists and promoting every one of the events himself. In doing so he cultivates a consistently high level of quality across all of his ventures with a very personal touch.
In the studio, Yousef has been working tirelessly since 2001. His output has been prolific, with releases on his own Circus Recordings, alongside an all-star lineup of the scene's most respected labels: Cocoon, Hot Creations, BPitch Control, Crosstown Rebels, Moon Harbour, Desolat, Saved and many more. His diverse discography covers the full spectrum of house and techno, from dance floor-ready tech house bubblers to groovy deep house, in-your-face techno and uplifting flavours.
Yousef's production prowess has been showcased on four artist albums: 'A Collection Of Scars And Situations' (2009), 'A Product Of Your Environment' (2012), 'In The Process Of Eight' (2015) and '9 Moor Drive' in 2019.
'9 Moor Drive' has an intimate narrative, reflecting on Yousef's turbulent upbringing in what has been an extremely cathartic process.
Realising he had a lot of emotional residue holding him back, he decided to write an album that explored his early life at the house on '9 Moor Drive' in his native Liverpool. The result is a collection of music that is full of depth, each track telling a story about Yousef's past - stories that he wrote out himself, giving each one a paragraph full of detail and raw emotion. There's darkness, light, joy, sorrow, warmth and every kind of mental state you can imagine. The album represents an artist who has the experience and confidence to be vulnerable, using his creativity as a way to move forward and achieve closure. '9 Moor Drive' is not a story of hard times and anguish, rather a celebration of resilience, hard work and creativity.
Yousef's desire to create enduring memories lies at the core of his aspirations. He gives 100% in every aspect of his career, inspired by his own dance floor memories - those moments that send shivers down your spine and provoke feelings of pure elation and joy. Though he's revered as one of the world's most versatile and dynamic selectors, Yousef keeps his feet firmly on the ground, maintaining a positive, friendly disposition and a consistently high work ethic.
Always curious and always pushing himself to the next level his ambitions remain steadfast: dedicated to pushing electronic music forward and taking himself all the way to the top while inspiring the next generation of artists to follow his lead...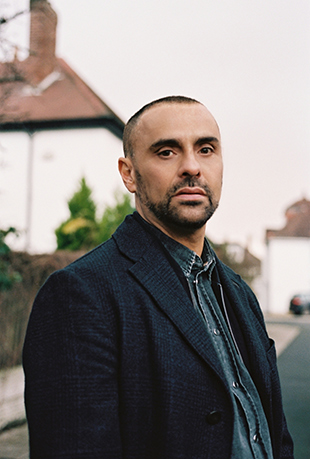 04 Jun, 2020

14 Jan, 2020

Yousef is the cover star of the January 2020 edition of DJ Mag Spain.