Kino Todo
Contact
Yair Raviv, also known as Kino Todo, refuses to follow trends. Instead, the DJ and producer takes inspiration from the unusual, the eclectic and the sonic soundscapes that most artists don't think to explore. Clearly, his curiosity is contagious. His first ever single "Gidafi Na" has over 10 million streams across all major streaming platforms and catapulted Kino Todo to the forefront of the global electronic music scene. "Gidafi Na" came into being one day while Kino Todo and his friend Tesfit Asgodom were messing around in the studio. Asgodom sang a few lines in his native Tigrinya language and Kino ran with it, creating a kaleidoscopic track as unique as it is unforgettable.
But the artist was neck-deep in music long before he released his first track. He grew up in a small village not far from Tel Aviv and was banging out rhythms on tables and chairs before he could talk. His parents nurtured his talent by buying him a piano, a drum kit and music lessons. Kino says he always felt at home with music and taught himself how to DJ as a teen. When he was 19, he moved to Tel Aviv and started playing local bars and clubs, championing a cross-cultural sound based on rhythm, bass and groove. By 2014 he'd made a name for himself as a DJ and was working on his own productions behind the scenes.
It was only when he played at Tel-Aviv underground bar "Istanbul" that he felt ready to share his own music. He played the club owner a track and was immediately instructed to send it to Red Axes. They instantly recognized "Gidafi Na" as something special, as did Tel-Aviv label ״Blue Shadow״, who released the single as part of his debut EP in 2019. Three years later and Kino Todo's one of the most recognizable names in indie/dance/electronica, with EPs and singles on Disco Halal, DGTL, City Slang, Life and Death, Multi Culti and more. He's performed at some of the world's most prestigious venues and festivals including DGTL, The Block, Circoloco, Black Coffee, Tel Aviv Pride, ADE and many more. Polo and Pan, Solomon, Diplo, Tiësto, Âme, BLOND:ISH, Gorgon City, Monolink and Todd Terje play Kino's tracks during their sets, and the artist recently founded his new label "Pop Tomorrow" with fellow producers Marko East and Danelz.
Creatively speaking, Kino Todo refuses to sit still. He's constantly pushing new sonic territory and exploring new soundscapes, sampling vocals in foreign languages like Portuguese and Japanese and using elements of UK and US trap, drill and grime. "I've always been drawn to new languages and sounds," he says. "I want to make melodies I've never heard before."
All this and more will be showcased in his highly anticipated debut album Chances, due for release in 2023. For this album Kino Todo teamed up with producers, vocalists and rappers from around the world to bring his international vision to life. The album was mixed and mastered by Roi Avital (Garden City Movement), Dori Sadovnik (Red Axes), and with projects lined up with Polo & Pan, D Fine Us, Noga Erez and more, unstoppable doesn't quite cut it. Kino Todo's a force of nature.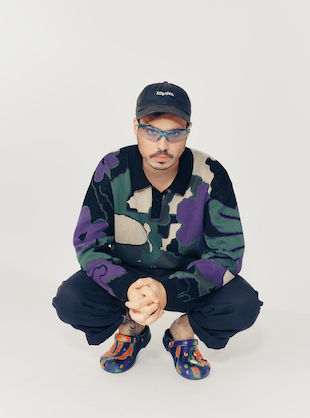 | | | | |
| --- | --- | --- | --- |
| Jan | Feb | Mar | Apr |
| May | Jun | Jul | Aug |
| Sep | Oct | Nov | Dec |