Alex Kennon
Contact
Already making serious waves with productions on labels like Rebellion, Crosstown Rebels and Saved, Alex Kennon has always been surrounded by great music. As a child, he was classically trained on the Spanish guitar and was, by his own admission, "really good!" Playing for ten years, it not only made Alex focused, it also allowed him to be disciplined because he would play at least two hours a day. Alex was inspired by powerful songs from The Eagles and Led Zeppelin alike.
Similarly, the influence of Alex's father cannot be ignored, not only was his Dad a fan of classic American and English rock bands, he was also introduced to sounds of the era: from Phil Collins and Depeche Mode to Massive Attack. But the biggest influence from his father was soul.
"His first love was Earth, Wind and Fire, funk groups with fifteen elements!" Alex also breathed in fumes from his father's vinyl collection, which was mainly English rock and new wave. It's a collection he still has today. "I have a lot of vinyl," he smiles. "My father used to travel and work with military pilots and would bring records back home. For example, he brought back 'Disintegration' [by The Cure] and it was my first electronic love. It shook my brain with music and image."
That emotional, powerful music soon lead him to the house and techno he lives and breathes today: thanks in part to his father's funk and also down to his own passion for New York and Detroit scenes. Soon, Alex was presenting a show in his own hometown. "As well as Laurent Garnier, I was a lover of New York music and also Detroit, I loved records with acid sounds inside. This is when I discovered Giorgio Moroder." Alex's father told him Giorgio was an Italian who was one of the best producers of the 70s, "which is why I admire him. But I also think everybody is a fan of him!"
And it's that same Morodor-ish passion that drives Alex Kennon now.
Having played at some of the best clubs in Ibiza where he lives (from Ushuaia and Pacha to Destino and Privilege) and like a real globetrotter all around the world, this year Alex's key releases will see him take everything to a whole new level. And not just in Ibiza, but at festivals across Europe and into America and across Brazil. So far, his productions have been supported by Nic Fanciulli, K lsch, Solomun, Steve Lawler, Damian Lazarus, Matthias Tanzmann and Tale of Us alike. He's also been picked up as a producer to watch by Mixmag, who gave Alex's Crosstown remix of 'Lay Your Weapons Down' by Raw District & Fabrice Lig a premiere midway through March, ahead of Alex's debut for Damian Lazarus's infamous Get Lost party. A release for Lazarus on Rebellion with Pirupa called 'Vision' will also be everywhere by the time you read this. Finally, we have to mention Alex's Best Breakthrough win at the 2018 DJ Awards in Ibiza: it was an important acknowledgement from the DJ community, and Alex won in a room alongside superstar winners like Jamie Jones, Adam Beyer and Sven Vath. As for Alex's sound, that Crosstown Rebels remix really points the way: Alex likes vocals and he likes the sweet spot between house and techno. Not too hard, always groovy.
"Between house and techno," he nods. "I like the groove. Sometimes I take the risk, we are not like robots. I never prepare a DJ set, I try to build a DJ set in the moment. Every DJ needs to do that. I always say you should have fun with the crowd."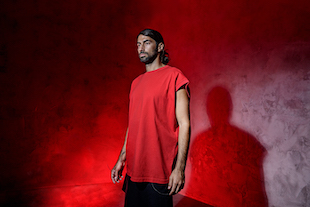 17 Oct, 2019

The second day of this year's Amsterdam Dance Event, will feature a whole host of Decked Out & Primary Talent International artists playing at many different venues across the city. The schedule is as follows:

...Charlotte Adigéry
...The Bloody Beetroots (Live)
...Boys Noize
...Louisahhh
...Kittin, Louisahhh
...Myd & Djedjotronic
...Alex Kennon
...DUKE & JONES
...DROELOE
...GAMMER
...NGHTMRE
...WHAT SO NOT (LIVE)
...Brohug
...SEVEN LIONS
...The Bloody Beetroots (DJ Set)
...NGHTMRE

www.facebook.com/amsterdamdanceevent